Annual Reports will be available to view beginning 2015-2016 and forward here on this page.  The most current edition will also be available on the home page at the bottom.
Each year, Annual Report will be available on the Monday prior to the election of officers.  This year, 2019, the Report will be available in the Town Hall on May 6th.  Copies will be available at Town Meeting on May 14th at Hancock Grammar also.  The report will be published online as soon as it has been approved by the Board of Selectmen.  The 2019 election of vacant offices will be held on Monday, May 13th from 1pm-7pm at the Town Hall.
We stopped mailing reports years ago due to rising costs and many were being disposed of in the post office.  If you are unable to get out and would like a copy, I will certainly mail you one.  Please call and ask to have one mailed to you.
The law requires certain information 'MUST' be in this report, such as the list of delinquent tax payers, financials and audit.  The Departmental reports are not required, nor is the annual warrant.  We do try our best to have the warrant approved and in town report for your convenience.
A local resident, Jane Branca, takes all of my photos for this report, but if you have something of good quality that will print well, please send them to me.
This report requires a lot of time to prepare, print and bind.  All of this is done in house, by me and just me.  Years past, we contracted this out.  It saves quite a bit of money to do this here in the office.  Contracting out was between $1,500-$2,600 annually and I currently spend $450-$700 in supplies to do this here.  My time I have not factored into the 'in house' cost.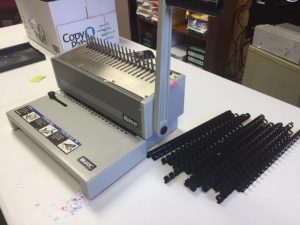 This is the 'binding machine' that punches all the little holes, and some of the 'combs' used to bind.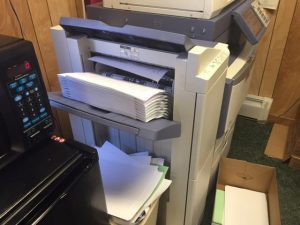 The printer works very hard, and often over heats and takes more 'breaks' than worker's comp allows!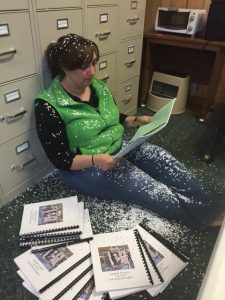 Eventually, you can sit down, and read your hard work-amidst the snow storm of paper punch droppings!
We print between 250-350 annually. If we run out, we will take your information and do our best to print additional copies in groups of 10.